Absolutely! Imagine you subscribe to an online service that immediately sells your Bulc Club forwarder to hundreds of spammers. Bulc Club makes it easy for you to simply block the forwarder. Click the Forwarders tab and scroll down to the forwarder you wish to disable. Click the actions menu by this forwarder and select Block All. You will no longer receive any mail through this forwarder.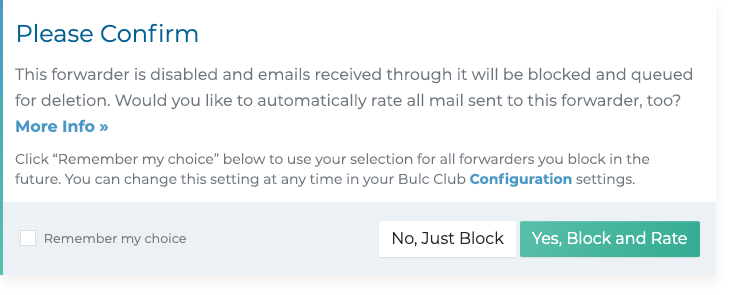 Bulc Club also allows you to automatically block and rate all email addresses that send mail to disabled forwarders. Upon blocking a forwarder, you will be prompted to confirm you want to block all mail from the forwarder and asked if you'd like to automatically rate all mail sent to that forwarder as spam before it's queued for deletion.
If you're still receiving valid email through this forwarder (say, a newsletter you previously requested), we recommend unsubscribing from the newsletter before you choose to block and rate all senders. Otherwise, valid email addresses may be inadvertently rated as bulkmail. After doing so, click Yes, Block and Rate Senders and all mail sent through that forwarder will be blocked and all senders will automatically be rated as bulkmail. If you simply want to disable the forwarder and block mail, click No, Just Block.
Tip: We recommend selecting Yes, Block and Rate Senders after you've unsubscribed to valid emails as this will provide valuable ratings that help prevent our other members from receiving spam.

Lastly, Bulc Club allows you to globally set this choice for all blocked forwarders in the future. Click the checkbox by Remember my choice and upon clicking an option, you will no longer be prompted to confirm each time you block a forwarder.

Tip: You can always change this option in the Configuration tab of your Settings.

Was this article helpful?
yes
no