What are Bulc Club's Hotkeys?
Frequently Asked Questions (FAQs)
---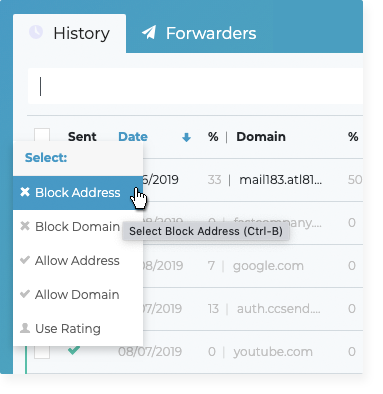 Hotkeys make it easier and faster for you to perform mundane repetitive tasks.
If you use your Bulc Club Member Console to moderate messages in your queue, sometimes blocking multiple addresses and domains can be pretty tedious. Longpress the checkbox in the History table header and you'll have options to select multiple items in your history based on their actions. Even better, use keyboard hotkeys to do it for you!
| Select | Hotkey |
| --- | --- |
| Allow Address | Ctrl-A |
| Allow Domain | Ctrl-Shift-A |
| Block Address | Ctrl-B |
| Block Domain | Ctrl-Shift-B |
| Use Rating | Ctrl-U |
| None | Escape |
Note: If you forget any hotkeys, just hover over an option for a helpful reminder.
Was this article helpful?
yes
no